INFO & FAQ: Wedding
Something we almost always hear when talking about weddings with a newly engaged couple is, "We've never done this before." We hope to shed light on some of the big questions that come up when searching for a wedding photographer and how the wedding process works. If you have more questions please check out our Articles section and feel free to message us, we're here to help.
Style
Who will actually be my photographer?
Alicia and I photograph all of our photo shoots. While we do photograph all of our weddings together only one of us will photograph your portrait session. If you have a preference for one of us please feel free to ask and we will work to accommodate you.
What is your style?
Our style is a combination of photojournalism, which captures the natural moments of your day as the events unfold and lightly stylized portraits. When we stylize a portrait we are guiding your natural pose to flatter you and the emotion in the moment. We also take care to position ourselves at a distance that allows you to have an uninterrupted moment together. Our couples love this because it allows them time to experience the day as it unfolds. Wedding days move fast, you deserve to spend a few quiet moments with your love just being connected.
During portrait sessions I like to be more documentary when photographing newborns and families. Alicia tends to photograph newborns in the popular artistic style of today. Senior sessions we have a similar portrait style to show you looking fresh.
Do you shoot digital or film? Why is a professional camera important?
We are Canon photographers and shoot with Canon professional digital SLR cameras, premium lenses, on and off camera flash and natural light. Professional cameras are meant to handle the workload of professional use and our cameras have two memory card slots. The Canon 5D Mark III camera saves two copies of your photos as we photograph your day; it's a once in a lifetime event and we don't want to lose a moment.
Do you photograph more than one wedding a day?
Are you kidding? We are exhausted after photographing one in a day! Plus your day is too important to share with another couple.
Who will actually photograph my wedding?
Erik and Alicia photograph all of the weddings for Erik & Alicia Photography, LLC. We don't rely on assistants and interns to photograph one of the most important days of your life.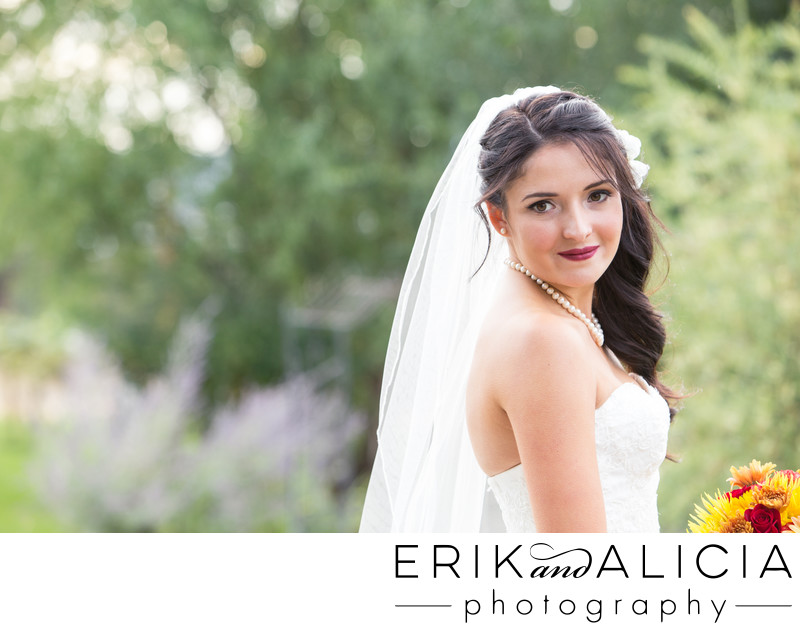 Do you us a "second shooter"?
We are a husband and wife team and have been photographing weddings together for over 8 years. Having a bond of best friends communicating with few words, we know where the other one is which allows us to work together with care and confidence. No, we don't have a second shooter we have each other, which is way better!
What is the difference between having two lead photographers and other studios that have one lead photographer and a second shooter?
A second shooter for many studios is often an assistant who carries equipment, holds lights for the primary shooter, is tasked with 2nd shooting during part of the day, and often is a temporary summer intern working for the studio. We are both lead photographers, which means we both can and have been the lead photographer for numerous weddings. We love photographing weddings together and have learned through our own years of marriage how to communicate so we can deliver a complete creative perspective for your wedding day.
Coverage
How many weddings have you photographed in your career?
We have photographed over 100 weddings together over the last 8 years. Our home is in the Inland Northwest and we have photographed extensively through Eastern Washington and Idaho. We began photographing weddings together in the San Francisco Bay Area and have been fortunate that couples have taken us to Las Vegas, Seattle, Portland, and Montana to photograph their weddings.
What's included in your packages?
All of our wedding packages include lead photographers: Erik & Alicia on the day of your wedding, an engagement session with a DVD of retouched photos and print release. The wedding day will include at least 8 hours of photography coverage, a custom USB of your photos with print release and an online gallery to share with family and friends. As a special gift for our 2017 & 2018 brides we are including professional bridal makeup.
Do you edit the photos?
Yes we edit all of our photos to ensure beautiful even color and skin tone. We think black and white photos are beautiful but if you aren't a fan of B&W photography please let us know, also let us know if you love B&W photography and we will include a few more.
Do you limit how many photos you take?
No we do not limit the amount of photographs we take, this is perhaps the greatest benefit of photographing weddings with a digital camera. When Erik started photographing weddings he used film and was limited to the amount of photos he could take based on how many rolls of film he had in his camera bag. Now we use SanDisk Extreme 64GB Compact Flash & Secure Digital memory cards, these cards allow us to take more than 1500 photos per card! Film photographers are limited to 15-36 exposures per roll.
How many photos can I expect to receive from my wedding day?
All day weddings typically receive 700-900 retouched high-resolution digital photos on a custom USB with printing rights.
How many photos can I expect to receive from my portrait session?
High school senior sessions are approximately 1.5 hours long and receive approximately 30-60 photos to choose from. Newborn portrait sessions last approximately 2 hours and standardly receive 30-60 photos. Maternity and family portrait sessions are about an hour long and receive approximately 20-50 photos to choose from. Mini sessions are 20 minutes long and provide 5-20 photos.
Can I request certain photos to be taken at the wedding?
Our goal is to work with you to not just meet your expectations but to exceed them. Of course you can request specific photos, this is why we schedule a venue walk through before your wedding to talk about the space and discuss your dreams and plans for your wedding day. Knowing if there are any significant friends or family in attendance is important.
We do however ask you not give us a "shot list" you know, those lists that nearly every bridal magazine says you must follow. Those lists hamper our creativity and slow the flow of the day. You're looking at our website and none of the photos were taken using a printed "shot list" so please enjoy your day and let our experience and knowledge of photojournalism take care of documenting the details and capturing the moments of your day.
We have more flexibility during a portrait session to take on photo requests. However we can't guarantee to copy of your favorite Pinterest board pins; we will try to get a better understanding what you hope for and create an amazing series of photos based on your dreams.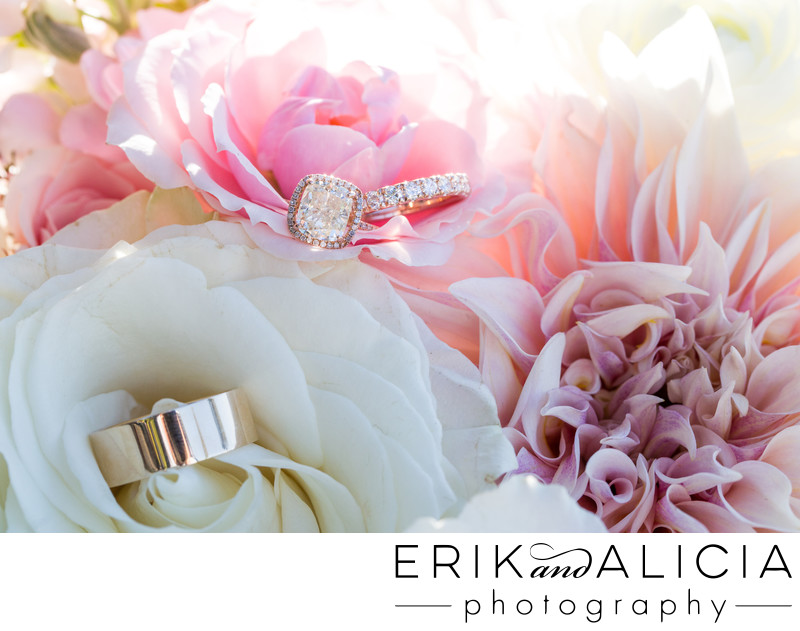 Do we need to feed you? When will you eat?
We bring our own snacks to keep our energy up through the wedding day. However we do require a meal is provided for both of us during dinner. Photos of people eating are unflattering, so during the dinner hour we will take a few minutes to sit down and eat too.
How do you dress when photographing an event?
Our attire is based on the event. Erik will wear a suit and tie for formal events or a tux for black tie weddings and Alicia will wear a dress. Most weddings we photograph however are less formal and we like to dress like we are guest. Erik will wear dress pants and button down shirt and Alicia will usually wear a dress or pants with a blouse in the cooler months. During portrait sessions we both dress more casually in jeans or pants and a nice shirt.
Are you ok with photographing a same sex wedding? Have you photographed a same sex wedding?
Yes we are ok with photographing a same sex wedding and had the honor to be the photographer for a same sex couple last year. Love is love and it's our honor to show you both looking your very best while documenting your love story. Your wedding photographs are an heirloom and will become a reminder for you and your family the day you committed to each other forever.
Business
Are you licensed and insured?
Erik & Alicia Photography, LLC. is licensed in Washington State. Yes of course we have insurance.
Can you provide the venue with an insurance certificate?
We are happy to provide an insurance certificate if the venue requires. Please allow us at least eight weeks before the wedding date to deliver a copy of the certificate to your venue. Feel free to have the coordinator at your wedding venue contact us directly with the requirements of the certificate.
How much is the deposit? When is the balance of the contract due?
Our booking retainer is 1/3 of your total contract and is due at the signing of the agreement. When we sign the contract to be your wedding photographer we turn down all other jobs, this is why the retainer is non-refundable. The balance of your contract is not due until 30 days prior to your wedding. A few weeks before the contract is due we will contact you to schedule our venue walk through and remind you of the final payment which we often take care of during the walk thru. We don't want to worry about money on the wedding day we are too busy taking photos!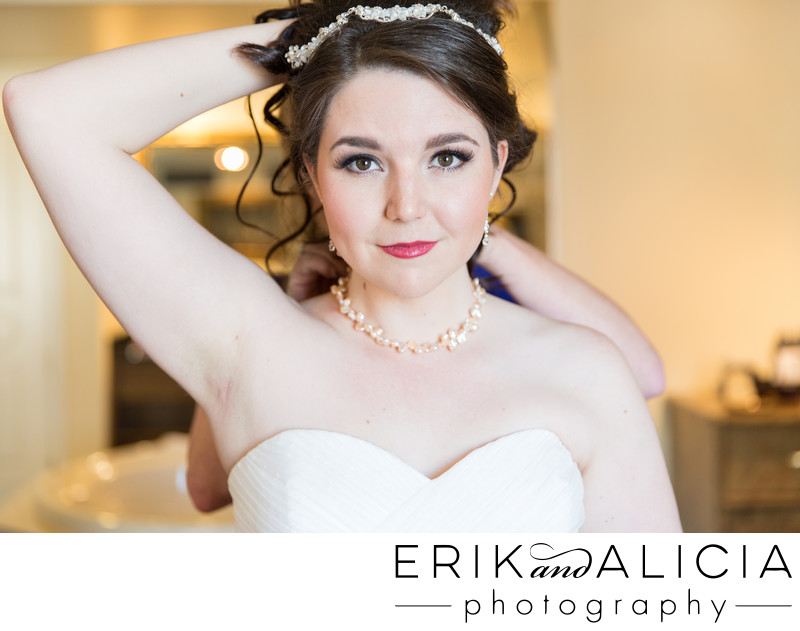 Can you hold my wedding date?
A retainer and signed contract are required to secure your wedding date. We're sorry to say we cannot hold a date or write you in without a signed contract and booking retainer paid; to be fair we accept weddings only on a first come first serve basis.
Do you offer discounts for non-Saturday or offseason events?
We do occasionally offer discounts based on the time of year and our availability. Please contact us and let us know should you have concerns about your budget.
Can I receive a refund of the retainer if we cancel the wedding?
The retainer guarantees we will hold your date exclusively and when the contract is signed we turn down all other work for that day; which is why the retainer and all monies paid are non-refundable.
How long do I have to wait to see my wedding photos?
We share a sneak peak of your wedding on social media within a couple days of your wedding. Your full wedding photo collection typically takes 4-8 weeks to complete. Once the photo collection is completed you will be able to share photos with family and friends through your online gallery with a private username. For your convenience the online gallery allows for print and photo gifts to be purchased.
When is the payment due for my portrait session due?
The full payment of your portrait sessions is due the day of the session. We like to keep the finances simple. We know it can be a lot of work to gather the family, bundle the newborn or motivate the high school senior that it "won't be that bad". Let's keep the money thing simple.
Can I have the RAW photos?
Short answer, no. A RAW image hasn't been color corrected or reviewed for quality. We want you to look your best and we insist on only delivering the best representation of our talent. RAW images are also not always viewable or printable. The images must be processed with color profiles, sized for appropriate resolution for printing and formatted into a printable format (we format in JPG.) Lastly, photography is an art and the color edit we apply to our photos is part of our creative vision.
Who owns the copyright? Can I buy the copyright?
Erik & Alicia Elsasser own the copyright and it's held under Erik and Alicia Photography, LLC. No you cannot buy the copyright but you do receive a print release that allows you to make print products and share your photos on social media. Commercial use is prohibited without express written permission and fair and appropriate compensation. We retain the copyright for the images and the right to use them for promotion and competition.
What is your plan if you are sick and you can't photograph my wedding?
Illnesses sometimes happen, knock on wood, not to us yet. If one of us is sick, we guarantee at least one of us will be there for you. We are both lead photographers and confident in being your lead photographer. When possible we will bring a trusted second shooter.
What happens if one of you dies?
Alicia and I are both lead photographers and while we would be grief stricken with the loss of our spouse we would still provide you coverage or in the unlikely event this tragedy happens last minute we will bear down and find you a suitable replacement. The replacement would be one of our local professional photographer friends or another member of our international professional photography group.
Do we need a permit to photograph anywhere?
Some locations do require a permit to photograph. Please contact the location directly and if you need help give us a call; we will try to help you determine if a permit is necessary. Any fees associated with the permit are not the responsibility of the photographer. Arriving without a permit means we may be asked to leave the location.
Do I receive a disk of photos or do I have to order all my prints from you?
We deliver to you either a custom USB, DVD or provide a digital download of your high-resolution JPEG photos. The photos include a print release, which will allow you to make your own prints at any local photo lab.
Can I buy prints from you?
Of course you can purchase your prints from us. We only deliver archival quality prints and perfect color; your local photo printer doesn't match our lab's quality level because our photo color profiles are set to our lab's calibration. Which means your prints from a different lab may not look exactly how you see the photos on your computer screen. Color accuracy is important since the photos you print will be hung on walls and sit on desks to share for years to come. We want you to enjoy your photos every moment and reflect back on the day you said, "I do".
We offer a wide variety of printed products; these products include beautiful canvas gallery wraps, vibrant metal prints and elegant woodprints. We also offer small custom designed albums that are perfect to show off your favorite photos from your e-session. Our albums are custom designed by Erik and if properly cared for will look fantastic for 100 years. We want your children, grandchildren and great children to see who you were and professionally printed products is the best way to pass down those moments.
Do I get to choose which photos are color or black and white?
Photos that are delivered black and white cannot be changed to color unless we have included both. Please let us know prior to the wedding if you have an affinity for black and white photographs and would like to see more included or just a select few.
Will you attend our rehearsal?
We are happy to photograph your rehearsal. Photography coverage for the rehearsal dinner is available for an added fee to your collection but please be confident that not attending the rehearsal will not impact your wedding day coverage.
Do you work with videographers?
We don't have an in-house videographer but we have worked with professional videographers in the past and enjoy creative collaboration. Would you like a recommendation of a few fantastic videographers; go to our menu and click the link VENDORS.
Is it ok if my uncle brings his camera?
Of course your friends and family can bring their personal cameras. You are hiring us to capture your wedding day, we just ask that the inspired photographer isn't taking photos over our shoulder and is willing to move when we politely inform them we need to be where they are standing. The photos we are setting up are our creative work and no matter how good of a photographer they may be it's not going to turn out how we have envisioned the final product. Plus we love to show off our favorite photos and if guests share the photo before us the excitement is gone, it makes us sad.
Why do I need an album or prints, I have a tablet to see the pictures?
Digital photos are great to share online and view on your phone or tablet but a printed wedding album will be shared for generations. Also there just seems to be some magic in opening a large wedding album. We have researched wedding albums for years and have held hundreds of albums to find our favorites. We offer custom wedding albums made in the USA and premium albums made in Italy.
My wedding collection includes an album what does that mean?
We're excited your collection includes an album! It's one of the most important keepsakes from your wedding day and a record of when your family began. We will design your wedding album for you since we know you are busy and there are so many great photos to choose from. When your design is complete we'll host it online for you to view and then set up a time to meet in person or online thru Skype or Facetime and settle the final details of the album. We have created an article on our website that extensively shows album options. We think it's a great resource for all of our couples, check it out!
Destination
You're a destination photographer what does that mean?
We love to travel and our clients are finding us from around the country. Local couples in Spokane, San Francisco, Miami, Los Angeles, Montana, Colorado, Ft. Lauderdale, Seattle, Portland and the Bay Area have chosen us to photograph their nuptials. While other couples make their wedding location a destination, we've photographed weddings in Las Vegas, Seattle, Sacramento, New Mexico and the Chicago suburbs.
Can you tell me how much it will cost to photograph a destination wedding?
All destination weddings are provided custom quotes. To provide an accurate quote we will need to know: date, location, how many days, hours we will be shooting each day and how many albums you may want.
What travel fees are involved?
We ask our clients to cover two plane tickets, a hotel room, excess baggage fees, and ground transportation. We will cover our own food expenses. International travel we prefer to arrive at least two days early so we can scout the area and get on the right time schedule. Arriving early also ensures that we are still on time for your event, even if flights are delayed.
More About Us
Do you have a degree or take any classes?
Erik has a Bachelor of Arts in Photography from Barry University in Miami, Florida. Alicia's degree is in Early Childhood Education, which has helped her become fantastic at communicating with our smaller subjects.
We feel taking classes from top national and international wedding photographers is essential to stay current with top industry trends and practices. Which is why we have taken classes from the amazing Jerry Ghionis and have attended WPPI in Las Vegas numerous times; this annual wedding and portrait photographer international convention is a great source of inspiration from the best photographers in the world. The convention allows us to see the newest camera gear, print products and of course the very best wedding albums to check out! Plus who doesn't want to kick back for a couple of days in Vegas.
What photographers do you admire?
Erik: Henri Cartier-Bresson, Ansel Adams, Jerry Uelsmann, Cindy Sherman, Arnold Newman, Annie Leibovitz, Edward Weston, David LaChapelle, Helmut Newton, Edward Weston, Dorthea Lange, Albred Stieglitz, Mario Testino and Alicia Elsasser
Alicia: Elizabeth Messina, Jerry Ghionis, Bambi Cantrell
What camera gear do you use?
Cameras-
Canon 5D Mark iii
Canon 6D
Lens-
Canon 24-70mm f2.8 L USM
Canon 70-200mm f2.8L IS USM
Canon 100mm f2.8L IS USM
Canon 85mm EF f1.8
Canon 50mm EF 1.8 II
Sigma Art 35mm f1.4
Speed lights-
Canon 600 EX RT
Canon 580 EX II
Speedlite Transmitter ST-E3-RT
Tripod-
Manfrotto 458B with Manfrotto 322RC2 head
Memory Cards-
SanDisk Extreme Plus 64GB SD
SanDisk Extreme Pro 64GB SD
San Disk Extreme 64GB CF
Camera strap-
Spider Holster-Pro Dual Camera System
Camera bags-
Tamarac
Kelly Moore
Photo Storage:
G-Drive: 6TB, 4TB, 3TB
Software:
Adobe Photoshop CC
Adobe Lightroom CC
Computer:
MAC all the way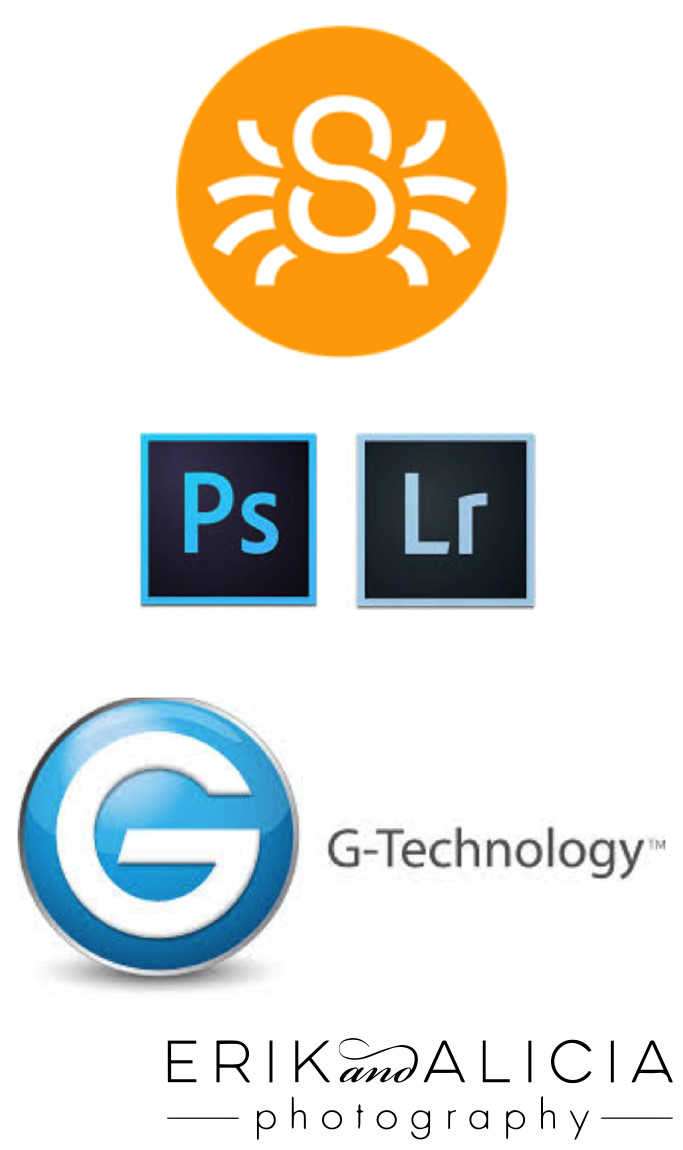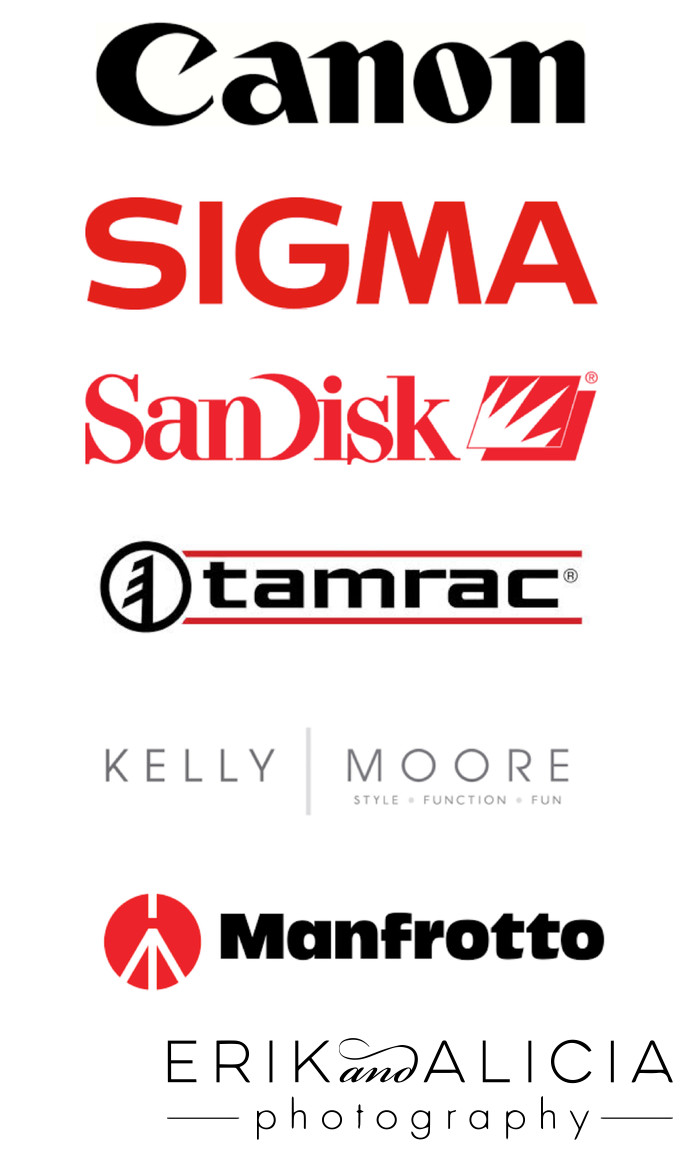 Erik and Alicia Photography, ©2017