IDAHO LOCATION TIPS
McEuen Park & Tubbs Hill
420 E. Front Ave., Coeur d'Alene ID 83814
McEuen Park is the most popular park in Coeur d'Alene and is located on Lake Coeur d'Alene next to The Coeur d'Alene Resort. Tubbs hill is a favorite for photographers and families for it's natural setting of tall trees, trails, sandy beach access and romantic gorgeous sunsets. The park also has a large children's play area, which is great to capture photos of our youngest or young at heart subjects. The park was remodeled a few years ago and added more walkways and concrete seating to add a more modern feel. The last we checked no permits were required to photograph in MeEuen Park or Tubbs Hill.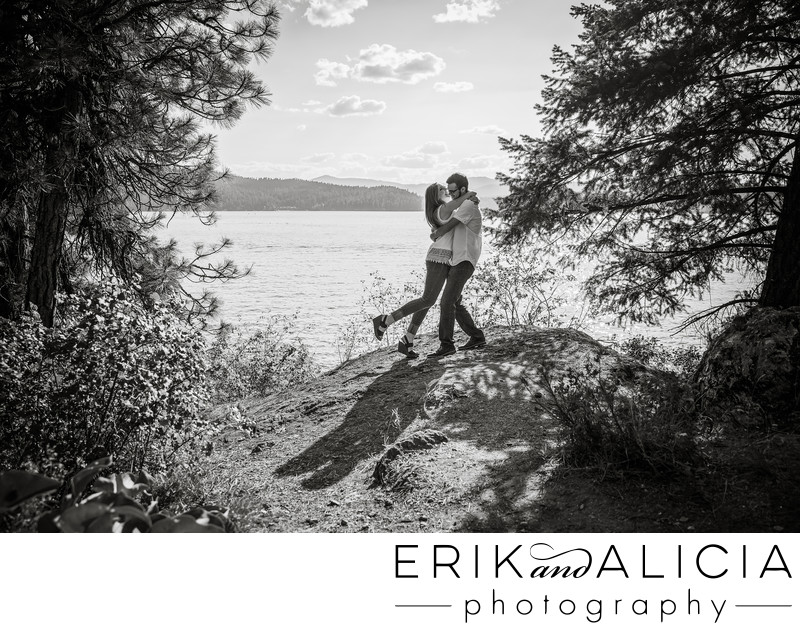 Coeur d'Alene Resort
115 S. 2nd St., Coeur d'Alene ID 83814
The Coeur d'Alene Resort is located next to MeEuen Park and downtown CDA. The Boardwalk Marina provides a place for a romantic stroll or an elegant first look. The resort has cruise boats that take tours and also offer wedding ceremonies on the lake. The resort has an open-air bar and a fine dining restaurant. The CDA resort is a great place to get ready for your wedding day or to stay on the wedding night. The rooms have ample light and offer a modern clean feel. No permits are required but check with the resort prior to any photography inside.
City Park & Beach/Independence Point
This park is located next to the CDA Resort and has a sand beach. During the warm summer months there is a coffee stand and paddle board rental. The huge children's wood structure playground can be fun not just for the kids but serve as a playful backdrop for the young at heart.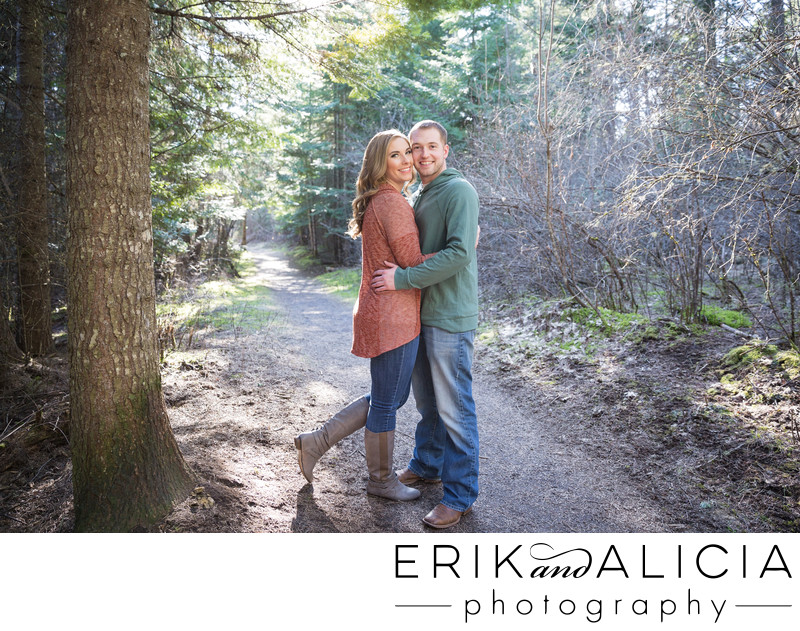 English Point National Recreation Trail
Lancaster Rd., Hayden, ID
Easy hiking trails begin at the trailhead with a thick forest, which provides a natural romantic canopy. Dogs, horses, bicycles and hikers are allowed on the expansive paths. While you may see a few people along the way there is plenty of space to feel alone to make your photo session more private.
Priest River
Priest River, ID
This little town is a summer favorite and if you live in the Inland Northwest you know Priest River and most likely have a favorite place to explore. Let's start our photos there and then look for a dock on the river or take a walk through town.
Erik and Alicia Photography, ©2017